Frequently
Asked Questions
At Delsys, we appreciate that your time is valuable. Below, you will find instant information on commonly asked questions and information requests.
If the information you're seeking isn't readily available on this page, please contact us at support@delsys.com or call +1 508 545 8200 Ext. 2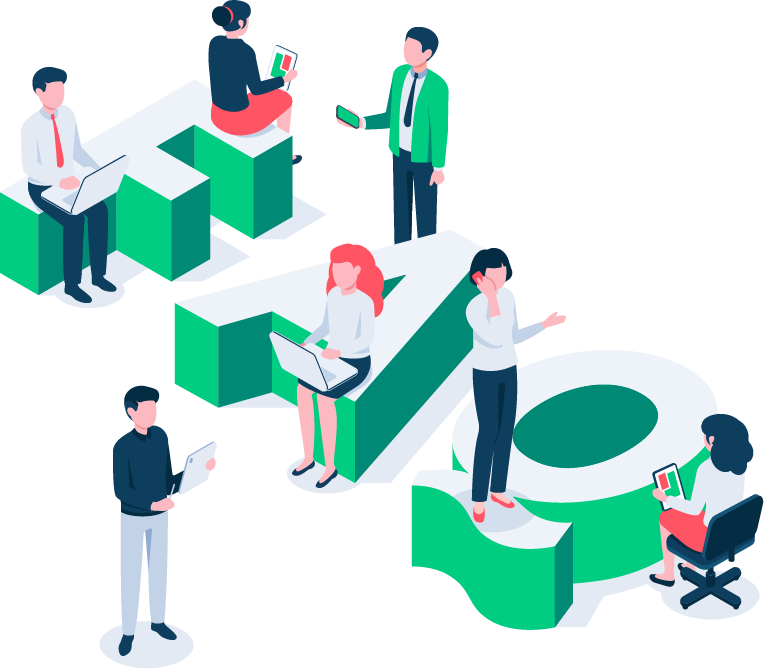 General
How does one verify the quality of an EMG signal?
K. G.
2020-06-01T10:59:12-04:00
The most effective way to verify the quality of an EMG signal is to first establish the noise baseline of the system. Delsys EMG systems exhibit 5uV pk-pk noise baseline with the sensor inputs connected to Reference. Once affixed to the skin, the noise baseline is between 5 and 10 uV pk-pk, depending on the impedance characteristics of the skin. This low baseline is observable only when the skin has been carefully cleaned and the muscle is completely relaxed. A soon as the muscle fibers underneath the EMG sensor become activated, individual action potentials can be discerned, appearing at amplitudes as low as 20uV and as high as 2mV. By maintaining a constant contraction level, an estimate of the EMG signal amplitude can be obtained. A signal-to-noise ratio can be computed by calculating the Root-Mean Square (RMS) of the detected signal and dividing it by the RMS noise baseline of the system. The formal signal-to-noise measurement is expressed in decibels, and is calculated as the logarithmic ratio of the RMS signal amplitude to the RMS noise amplitude. The full scale signal-to-noise ratio of our EMG equipment is calculated as follows:
SNR = 20log(10mV/5uV)
SNR = 65dB
How reliable is the RF communication?
K. G.
2020-06-01T11:07:44-04:00
The antenna design, the communication protocol and the radio hardware have been optimized for trouble-free operation up to 40m in open office environments.
Communication Test:
16 sensors at 20 m for 10 minutes
| Sensor | Dropped Packets | Sensor | Dropped Packets | Sensor | Dropped Packets | Sensor | Dropped Packets |
| --- | --- | --- | --- | --- | --- | --- | --- |
| 1 | 0 | 5 | 0 | 9 | 1 | 13 | 0 |
| 2 | 0 | 6 | 0 | 10 | 0 | 14 | 0 |
| 3 | 0 | 7 | 0 | 11 | 0 | 15 | 0 |
| 4 | 0 | 8 | 0 | 12 | 0 | 16 | 0 |
Total Packets Sent: 711,112
Total Dropped Packets: 1
Error Rate: < 0.0002 %
Trigno sensors have been meticulously designed to ensure trouble-free operation for distances up to 40m and recording sessions as long as 8 hours. A custom RF protocol operating within the 2.4GHz spectrum has been developed to ensure no data latency between sensors and a high level of transmission robustness. Our approach has minimized the potential for interference from commercially available products that make use of WiFi, Bluetooth, Zigbee and similar RF communication schemes. None-the-less it is advisable to remove any unnecessary 2.4GHz sources from the recording environment when possible. The Trigno System has the ability to track all data packets that are sent from the sensor to the receiving Base Station, so that communication quality at any point in time is known to the system. Multiple sets of operating channels are accessible to the user so that communication quality can be maximized in any given environment.
Equipment Setup
How do I turn on and pair my Trigno Sensors to the Base Station?
K. G.
2020-05-15T12:53:04-04:00
Solution
The Trigno Sensors are required to be paired to a particular slot (1-16) or slots prior to running a data collection. The Trigno Base Station will remember the last paired sensors for each slot, requiring the user to simply turn on the sensors for future collections. They will automatically pair to the previously defined slot(s). If you need to change the sensor slot alignment or incorporate different sensors, then the pairing process will need to be followed, as outlined below.
Turning the Sensor On
1. Dock the sensor in the charging cradle for 3 or more seconds.
2. Remove the sensor from the cradle. At this point, the sensor will illuminate a white-pinkish LED for 6 seconds.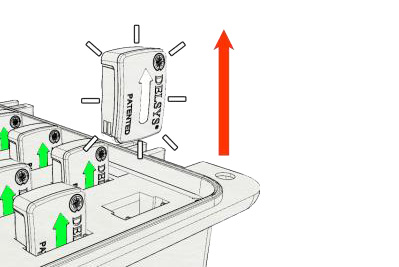 3. While illuminated, tap the sensor to the magnet located on the Base Station. If your Base Station does not have an embedded magnet, any other standalone magnet can be used. If the sensor's LED turns off, please restart the process from Step 1.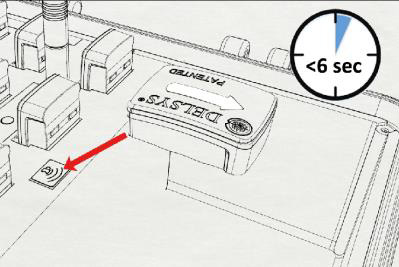 4. The sensor will complete the power up sequence and you'll notice a green LED appear.
1. Initiate a pair command from the Trigno Control Utility or the Sensor Status menu found in EMGworks Acquisition (this can be opened by clicking the icon in the top toolbar).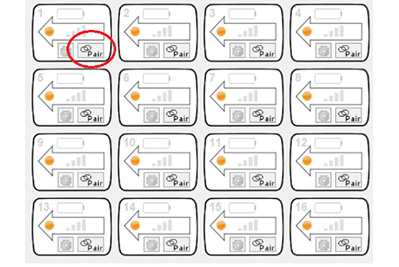 2. After the sensor has been turned on, place the sensor on the magnet.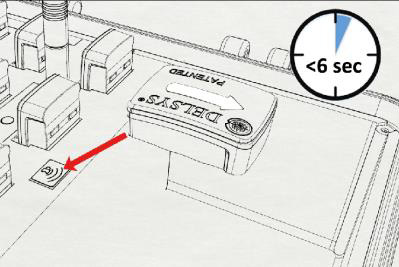 3. Green blinking LEDs indicate a successful pair operation.
Complete this cycle until all sensors are properly arranged and paired.
Pairing multi-channel sensors – Trigno Quattro, Trigno Galileo and Trigno Duo
By default, these sensors take up more than one of the 16 slots when paired due to the wireless bandwidth required to operate. The Quattro and Galileo Sensors occupy 4 slots, while the Duo occupies 2 slots. Other Trigno Sensors may have modes that increase their slot allotment from 1 to 2 or 4, although these are not by default. For full details on available modes, refer to the Trigno Wireless User's Guide or specific sensor User's Guide.
The pairing procedure is the same as above, however, the following rules apply:
4-slot sensors can only be paired to slots 1, 2, 3 or 4.
2-slot sensors can only be paired to slots 1, 2, 3, 4, 9, 10, 11, or 12.
When a sensor takes up more than one channel, the associated slots are outlined in

blue

.
This example shows 4 and 2-slot sensors paired and ready for use.
EMGworks
Installing EMGworks – What to expect and necessary requirements
K. G.
2020-05-04T14:32:33-04:00
The EMGworks Software installer contains the following programs and utilities:
EMGworks Acquisition
EMGworks Analysis
Trigno Control Utility (Software Development Kit Server)
Delsys File Utility
Delsys Software Update Tool
User Account Requirements:
EMGworks should be installed while logged in as an Administrator on the Windows PC. The program requires complete permission to access locations like the user AppData folder and Registry Editor.
Without proper admin permission to these locations, the installer may fail to complete. Please confirm the User Account privileges if EMGworks fails to install.
Recommended PC Specifications:
Windows 7 or higher.
2.0 GHz base processor clock speed or higher.
At least 4 GB system memory.
At least 128 MB graphics memory.
The Delsys NeuroMap Software contains its own list of specifications, which vary from EMGworks.
Troubleshooting
The Trigno Control Utility/EMGworks Acquisition Sensor Status Menu shows limited (<16) or no Sensor Icons. How can I resolve this?
K. G.
2020-05-13T15:36:40-04:00
Compromised Trigno Control Utility or Sensor Status interface.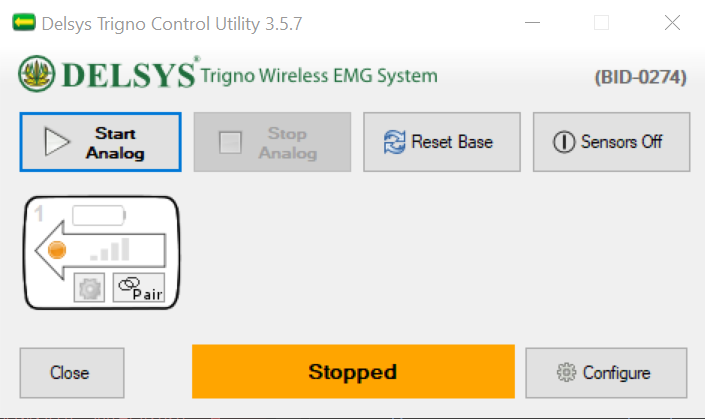 Solution
Close all Delsys programs.
Open the Delsys Software Update Tool. This gets installed with your other Delsys programs and is located within C:\Program Files (x86)\Delsys, Inc.
Allow the Update Tool to query your base station information.
Click Reset Base Flash Memory.
Wait 5 seconds and close the Update Tool.
Open Trigno Control Utility or EMGworks Acquisition and confirm 16 sensor icons appear in the interface.
Proper Trigno Control Utility or Sensor Status interface.