Analog Integration
Integrate with third-party data acquisition systems capable of sampling analog signals in the ±5V range.
Digital Integration
Delsys Software Development Kit grants access to all of the signals detected by the Trigno™ system
Triggering
Synchronize your system using the Trigno™ system's trigger port and the Delsys Trigger Module.
BoB -4- Delsys
A biomechanical analysis package for human musculoskeletal modeling and movement data analysis.
Analyze EMG + IMU data from Trigno Sensors

Display muscle activation on animated skeletal models

Compatible with motion tracking systems and MATLAB
H+ Trigno Hand Performance Monitor
First Ever Hybrid Technology For Real-time Monitoring of Muscle Forces, Muscle Fatigue, Grip Stability and Grip Strength
Software Development Kit
The Delsys SDK enables Programmers and Developers to create specialized software for visualizing or processing surface EMG and other physiological data transmitted from Trigno™ Sensors.
Trigger Module
Designed in order to facilitate connections to the Trigger Port.
It offers full signal conditioning to ensure that input signals are properly configured for Delsys hardware and that output signals are properly configured for secondary equipment.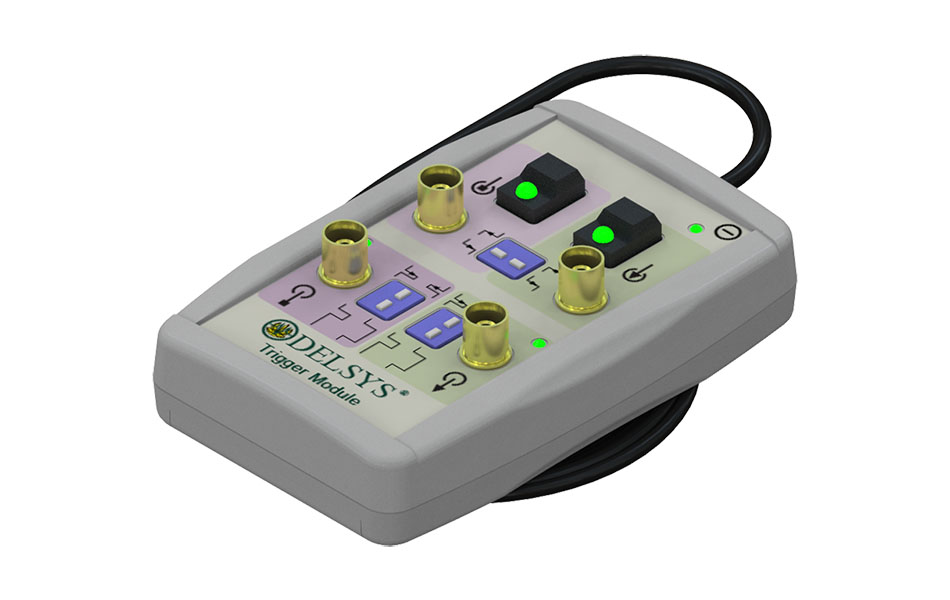 Data Acquisition and Analysis
Full triggering capabilities to control the start and stop of all data acquisition systems in a given experimental setup.
Features
Trigger on rising or falling edges, Positive or Negative Outputs, Short and Long Pulse Outputs, 5V active logic or Passive Switch logic.