Trigno Research+
Advancing research possibilities with wearable solutions for human movement assessments
With built-in WiFi and Bluetooth capabilities, this dual-purpose system enables you to record EMG + movement data from anywhere and at any time. Leveraging these abilities makes the system the optimal indoor/outdoor tool for both advanced research and mobile clinical conditions.
Trigno Wireless System
A high-performing device designed to make EMG signal detection reliable and easy.
The system is capable of streaming data digitally into EMGworks®, third-party software, or via analog outputs for integration with motion capture and other third-party data acquisition systems. Full triggering features further expand integration options for additional measurement technologies.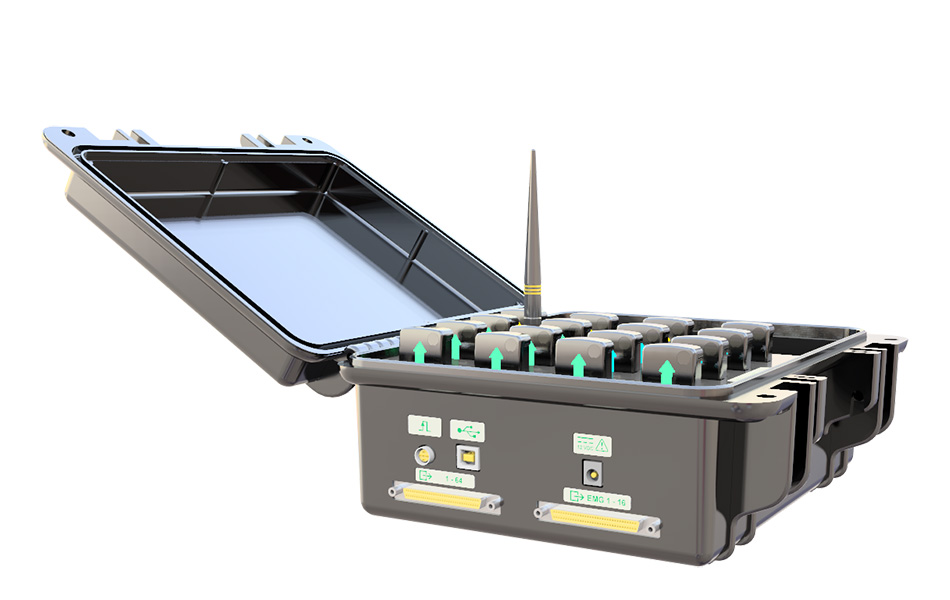 Research Mode
Mobile Mode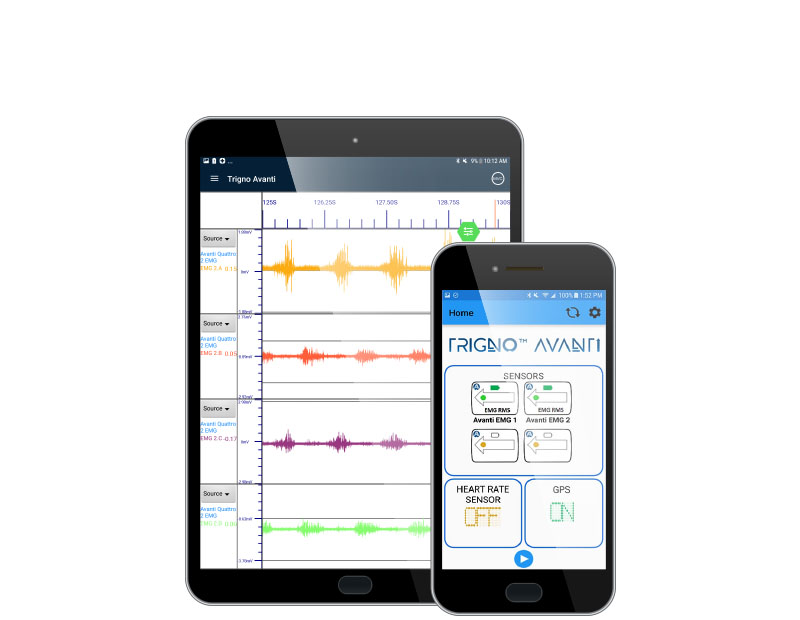 Wireless Communication: Bluetooth

Compatible with Trigno Avanti, Quattro, other latest-gen Trigno sensors
Trigno Avanti Sensor
Advancing the Trigno™ Platform for years to come
Our latest generation wireless sensor combines patented EMG with increased IMU performance, while supporting both Research and Mobile data collection modes.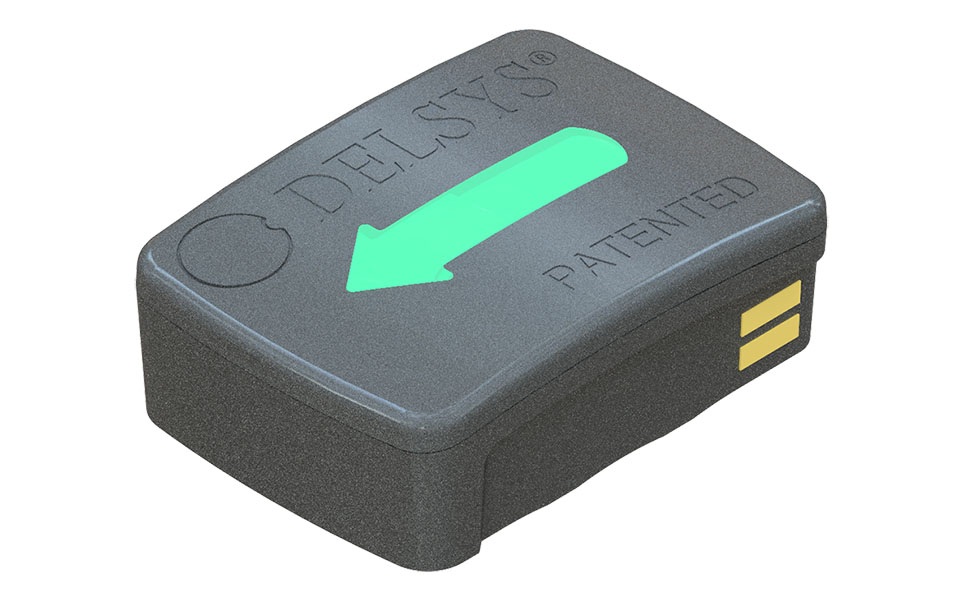 Selectable EMG Bandwidth Settings
On-board Signal Processing
Trigno EMG
& Additional Sensors
Combine. Collect. Analyze.
Specifically designed to complement EMG + movement studies, the Trigno™ product line offers users a full set of physiological and biomechanical monitoring tools to simplify complex research and provide more useful data.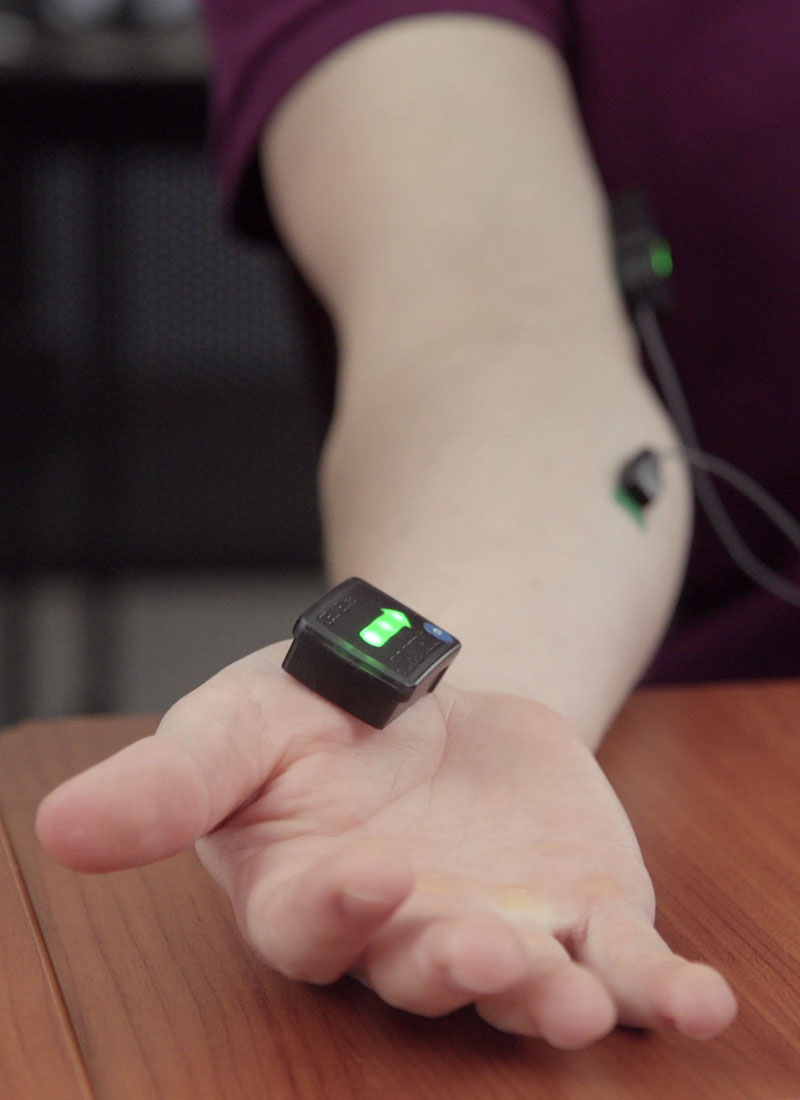 At least 2.0 GHz processor clock speed

At least 2 GB system memory

1280×1024 (SXGA) display resolution or better

50 GB hard disk storage (minimum)
Android V 6 (Marshmallow) operating system

Screen Resolution 2048×1536 (recommended)

Recommended Tablet: Samsung Galaxy Tab S2 (SM-T713NZKEXAR)
8-inch screen, 32 GB, WI-FI
Sensor Channels
1x EMG, up to 6x IMU
Reference Type
Dual on-board stabilizing reference
Inter-Electrode Spacing
10 mm
Size (Body)
27 x 37 x 13 mm
Mass
14 g
Operating Range
40 m in RF mode
Host Dependent/unlimited datalogger
Wireless Protocol
-2.400-2.483 GHz ISM Band,Proprietary RF Protocol
-BLE V4.2
EMG Bandwidths
10-850 Hz
20-450 Hz
EMG Sampling Rate (Max)
4370 sa/sec
Accelerometer Sampling Rate (Max)
963 sa/sec
Gyroscope Sampling Rate (Max)
741 sa/sec
Orientation Sampling Rate (Max)
222 sa/sec
Sensor Resolution
16 bits
EMG Baseline Noise (typical)
750 nV
EMG Input Range
11 mV / 22 mV rti
CMRR
<-80 dB
Battery Life
Up to 8 hours
Recharge Time (typical)
2.5 hours
Inter-Sensor Latency
< 1 sampling period
EMG Analog Output Delay
48 ms Fixed
ACC/Gyro Analog Output Delay
96 ms Fixed
On-Board EMG Filter
-Butterworth bandpass (40/80 dB/dec)
-RMS Envelope Calculation (100 ms window)
Real-Time IMU Orientation Filter
Quaternions or RPY (selectable)
Material
Medical Grade Polycarbonate
Seal and Protection
UV-sealed to prevent moisture from entering the sensor & to enhance patient safety
Patents
Protected by one or more of the following Patents 6480731, 6238338, 6440067, 9351559, 8971983, EP1070479