Trigno Load Cell Adapter
Accurately measure force
Collect force

data from load cells.
Low, medium and high gain settings.
Supports a large variety of load cells
Low, Medium & High Gain settings

27 mm

46 mm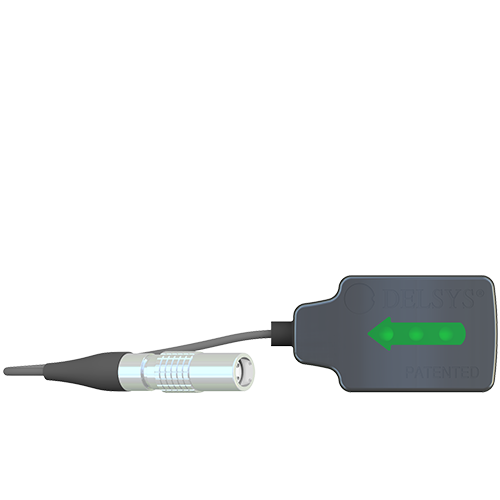 Up to 40 m range

10g – 100Kg, S-type, Beam, Button style
Trigno Load Cell Adapter is designed to work with our Trigno Research+ and Trigno Lite systems.
Sensor Channels
1x Load Cell, Up to 6x IMU
Size (Body)
27 x 46 x 13 mm
Mass
19 g
Battery Life
4-8 hours
Operating Range
40 m in RF mode
Host Dependent/unlimited datalogger
Wireless Protocol
2.400-2.483 GHz ISM Band, Proprietary RF Protocol
BLE V4.2
Force Bandwidth
DC-50 Hz
Force Sampling Rate (Max)
2222 sa/sec
Patents
Protected by one or more of the following Patents 6480731, 6238338, 6440067, 9351559, 8971983, EP1070479
Accelerometer Sampling Rate (Max)
370 sa/sec
Gyroscope Sampling Rate (Max)
370 sa/sec
Orientation Sampling Rate (Max)
74 sa/sec
Sensor Resolution
16 bits
Force Input Range
1.6 mV / 3.3 mV / 6.5 mV
CMRR
<-100 dB
Recharge Time (typical)
2.5 hours
Inter-Sensor Latency
< 1 sampling period
Real-Time IMU Orientation Filter
Quaternions or RPY (selectable)
Material
Medical Grade Polycarbonate
Seal and Protection
UV-sealed to prevent moisture from entering the sensor & to enhance patient safety
Quote

Request

Interested in the Trigno Load Cell Adapter? Call us at +1 508 545 8200, e-mail us at sales@delsys.com, or complete the form.