Trigno Goniometer Adapter
Trigno Goniometer Adapter
Accurately measure joint angles
Measure angles

in two orthogonal planes
Ideal for research involving rehabilitation, gait movements and repetitive movements.
Trigno Goniometer Adapter is designed to work with our Trigno Research+ and Trigno Lite systems.
Record from the finger, elbow, knee, wrist, ankle, back, neck and hip joints with these compatible models.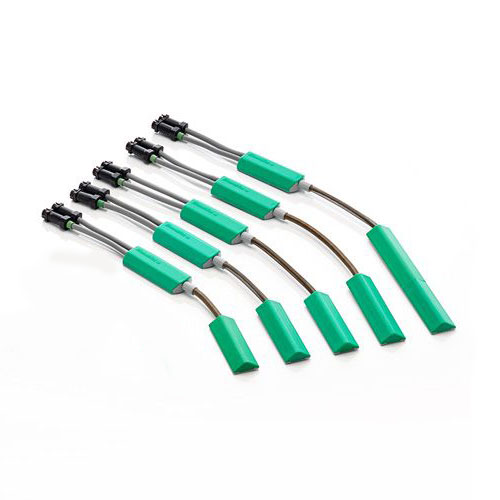 Sensor Channels
2x Goniometer, up to 6x IMU
Size (Body)
27 x 46 x 13 mm
Mass
19 g
Battery Life
4-8 hours
Operating Range
40 m in RF mode
Host Dependent/unlimited datalogger
Wireless Protocol
2.400-2.483 GHz ISM Band, Proprietary RF Protocol
BLE V4.2
Goniometer Bandwidth
DC-50 Hz
Goniometer Sampling Rate (Max)
1111 sa/sec
Patents
Protected by one or more of the following Patents 6480731, 6238338, 6440067, 9351559, 8971983, EP1070479
Accelerometer Sampling Rate (Max)
370 Hz
Gyroscope Sampling Rate (Max)
370 Hz
Orientation Sampling Rate (Max)
74 Hz
Sensor Resolution
16 bits
Input Range
1.5 mV / 1.8 mV / 2.3 mV
CMRR
<-100 dB
Recharge Time (typical)
2.5 hours
Inter-Sensor Latency
< 1 sampling period
Real-Time IMU Orientation Filter
Quaternions or RPY (selectable)
Material
Medical Grade Polycarbonate
Seal and Protection
UV-sealed to prevent moisture from entering the sensor & to enhance patient safety
Quote

Request

Interested in the Trigno Goniometer Adapter? Call us at +1 508 545 8200, e-mail us at sales@delsys.com, or complete the form.